Work packages
STEMM-CCS is an ambitious multi-disciplinary project that will deliver new approaches, methodologies and tools for the safe operation of offshore carbon dioxide capture and storage (CCS) sites. The storage of CO2 in underground reservoirs, for example in depleted oil and gas fields or aquifers, is a demonstrated technology on land and - to a more limited extent - in marine systems. STEMM-CCS will develop approaches to help ensure we select appropriate marine storage sites and can monitor them effectively, thus further increasing confidence in CCS as a viable option for reducing atmospheric CO2.
STEMM-CCS combines a unique set of field experiments alongside laboratory work and mathematical modelling. A number of research cruises will take place in the North Sea, where a combination of existing state-of-the-art technology and new sensors and techniques developed by the project will be deployed to examine baseline conditions, sub-seafloor structures, fluid pathways and a range of other characteristics relevant to the safe operation of CCS in the marine environment.
A key component of the project is an experiment in the North Sea at the Goldeneye site, which has been identified as a potential CCS storage complex. Here, CO2 gas will be released via a drill hole beneath the seabed and its pathway to the seafloor and into the water column tracked and monitored. Prior to the experiment, baseline environmental conditions both at the seafloor and in the overlying water column will be established so that the released CO2 can be differentiated from the CO2 naturally present in the marine environment.
Animation showing the planned controlled release experiment in the North Sea. CO2 gas will be released from a sub-seabed source, and its pathway through the seafloor sediments and into the water column tracked, monitored and quantified by a range of novel techniques and instruments, including passive and active sonar and chemical sensors mounted on the research vessel, underwater moorings and Autonomous Underwater Vehicles.
A variety of sensors and indicators will then be used to detect and quantify the released CO2, track its dissipation through seafloor sediments and into the water column, and monitor its effects on the surrounding environment. These will include chemical sensor arrays mounted on benthic landers and water column moorings to "sniff" for evidence of release; active sonar devices and hydrophone arrays to "listen" for CO2 bubbles, and Autonomous Underwater Vehicles (AUVs) equipped with passive sonar and chemical sensors patrolling the area. This experiment is unique as it will allow measurement and monitoring of CO2 escape under real subsea conditions at a potential CCS site. It will provide a platform for the testing of new techniques, sensors and sensor combinations, and novel integrations of models, instruments and platforms for the detection and quantification of CO2 escape.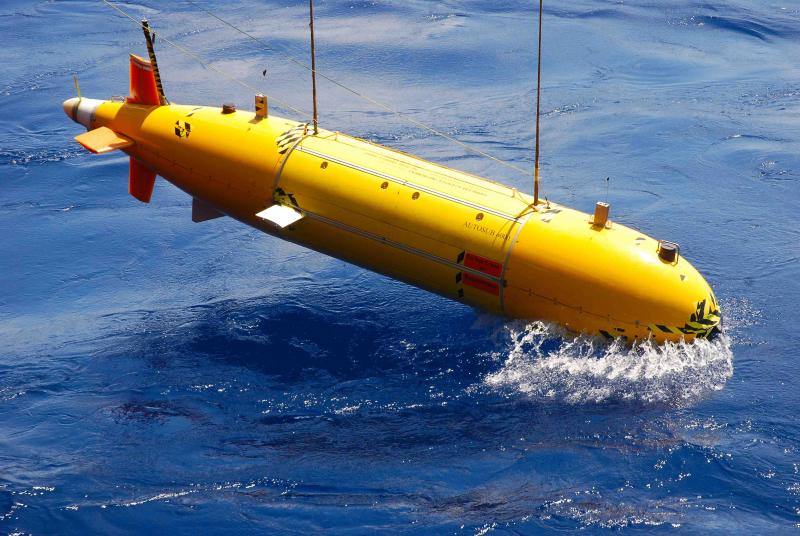 Autosub6000, one of the National Oceanography Centre's AUVs (image courtesy Doug Connelly)
The extensive field and laboratory-based experiments, together with the development and application of innovative techniques, engineering solutions and new technologies, will generate a huge amount of new knowledge to underpin recommendations for future best practice and operational support. STEMM-CCS will share its results with a broad range of stakeholders, including regulatory bodies, policymakers, industry groups, academia and the wider CCS community.
The project's work is structured around seven work packages, described in more detail in the sections below.